ARKANSAS TRIAL: $150/ACRE PROFIT BASED ON YIELD AND QUALITY GAIN
FULLY PLANTED HICKORY RIDGE 1,100 ACRE FARM WOULD SEE AN INCREASE IN PROFIT OF $165,000
Field Trial Hickory Ridge, Arkansas, Summer 2020
In Summer 2020  a field trial was performed in Hickory Ridge, Arkansas, where our SBb 2.5 Beauveria product was tested against the cocktail of chemical pesticides commonly used by rice farmers in the State.
Variety: Clearfield 150
Planting date: April 10th 2020
Harvest date: September 10-15th 2020
Growing conditions: Wet spring when planted, followed by a hot and dry July with temperatures over 100 degrees and high humidity.
Treatments: Either the leading brand of a mixture of fungicides and insecticides ($15/acre) or SBb 2.5 ($18/acre).
Product application: Liquid SBb 2.5 was sprayed onto the rice seeds before planting.
The results were staggering:
A yield increase of 30-35 bushels per acre

An increase in Grade from 3 to 2

A larger root system

A healthier, greener, stem                             
The treated Rice plants were strikingly larger and healthier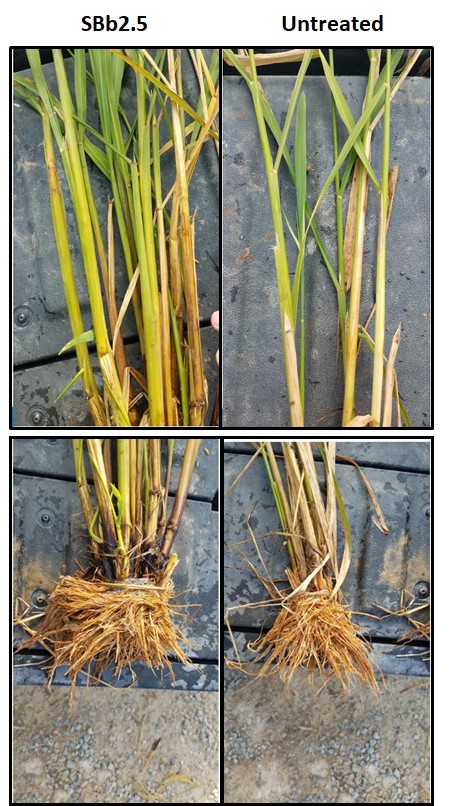 Yields were increased by 30-35 bushels per acre


Quality increased from Grade 3 to Grade 2